See the World of the Bible with
Pastor David Guzik & Enduring Word
* Register early, price increases to $6249 on January 1, 2024.
All prices are per person, double occupancy. Single room suppliment is the base price plus $2449.
See the World of the Bible with
Pastor David Guzik & Enduring Word
* Register early, price increases to $6249 on January 1, 2024. All prices are double occupancy. Single room suppliment is the base price plus $2449.
See the Bible come to life, in the Holy Land.
Follow in the footsteps of Jesus on an unforgettable spiritual pilgrimage from the Mediterranean to Galilee, the Dead Sea to Jerusalem. This guided Holy Land tour, hosted by Enduring Word, will take you to essential biblical sites like Nazareth, Caphernaum, Massada, the Mount of Olives, the Garden of Gethsemane, and the Empty Tomb.

Expert local guides will illuminate these magnficient places and passages from Scripture as you walk where Jesus walked. Pastor David Guzik and the Enduring Word team will also provide daily in-depth biblical teachings that will transform the way you read and understand the Bible.
This once-in-a-lifetime journey provides a rich cultural and spiritual experience of the Holy Land. You'll return home with profound spiritual insights and a renewed awe that will forever deepen your relationship with God and the Scriptures.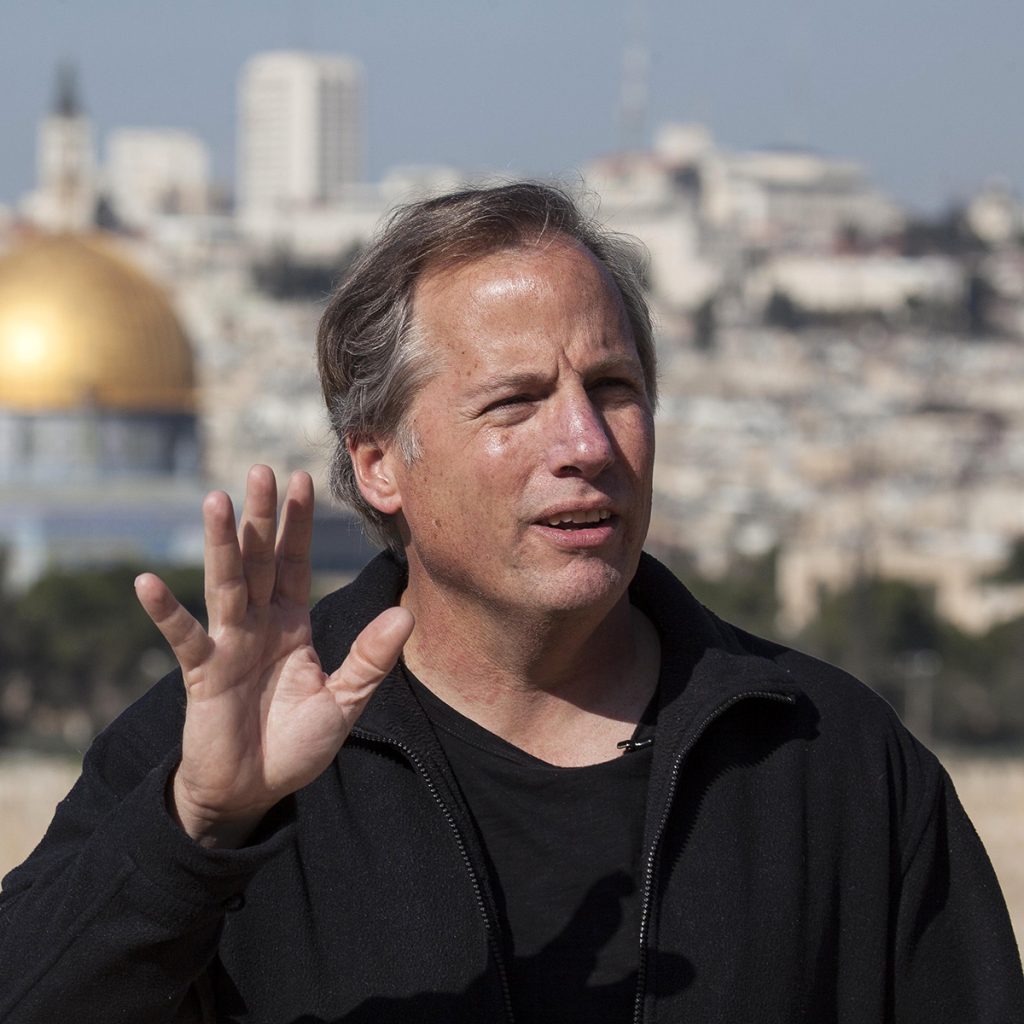 Don't miss this opportunity!
October 31
Depart from LAX (or whichever country of origin you will be traveling from) to join the tour in Tel Aviv.
November 1
Arrive at Ben Gurion Airport in Israel and transfer to Netanya Ramada Hotel to dine, rest, and meet the Enduring Word Team.
November 2
Take in the sweeping landscapes of northern Israel, as we tour the ancient ruins of Tel Megiddo, and view the valley of Megiddo from Mount Carmel. During our return to the Ramada Netanya we will tour Caesarea by the Sea, the ancient port city in which Paul was jailed prior to his journey to Rome.
November 3
Making our way to Galilee, we will tour the home town of Jesus, in the city of Nazareth. From there we will make our way to Galilee to enjoy a boat ride on the sea, to Peter's home town of Capernaum. After taking in the ruins of Capernaum, we will see the Mount of the Beatitudes, and them check in at David's Harp Hotel, in Galilee.
November 4
Once again we will make our way to the northern most parts of Israel to tour the ruins of Tel Dan, and see Caesarea Philipi, where Jesus declared, "Upon this rock I will build my church, and the gates of hell shall not prevail against it." As the day continues we will move into the Golan Heights, along the Lebanon and Syrian Borders to see the Crusader fortress of Nimrod's Castle, and the former Israeli military outpost on Mount Bental. Returning to our hotel in Galilee we will stop for a baptism on the Jordan river, south of the Sea.
November 5
Making our way to the Dead Sea, and the lowest point on earth, we will tour the ancient ruins of Beit Shan, tour the city of Jericho, and see the site of famed Dead Sea Scrolls at Qumran. Ending our day at the David Resort Hotel, we will have free time for swimming (or floating) in the Dead Sea.
November 6
From our base at the Dead Sea, we will trek to the top of Massada and then King David's favorite Oasis at Ein Gedi.
November 7
Now we go up to Jerusalem. Along the way we will visit the ruins of Tel Ber Sheva and Tel Arad. We will visit the Israel Museum and see the beautiful skyline of Jerusalem from Haas Promenade. At the end of a long day we will check-in to the luxurious David Citadel Hotel in Jerusalem. 
November 8
We will begin our day on the Mount of Olives to observe the Old City of Jerusalem, and get the lay of the land. From there we will walk down the Palm Sunday Road to the Garden of Gethsemane. From the Garden we will go to Saint Anne Church to see the Pool of Bethesda. Then it is on to the Via Dolorosa and the Church of the Holy Sepulchre. In the afternoon we will tour the ancient City of David, before returning to the hotel to rest, after a long day of walking. 
November 9
In the morning we will tour the Southern Steps of the Temple Mount, the Western Wall, and the Jewish Quarter of the Old City of Jerusalem. Following lunch in the Jewish Quarter, we will visit the traditional sites of the Upper Room and King David's tomb. 
November 10
From Jerusalem, we will journey to the Church of the Nativity in Bethlehem, and visit the Shepherd's field. In the afternoon we will visit the Holocaust Museum at Yad Vashem and the mountain village of Ein Karen.
November 11
Our final full day in Jerusalem will begin at the empty Garden Tomb, at Gordon's Calvary, before we have a day of free time in the Old City of Jerusalem. 
November 12
Following breakfast and our final team connections, we will make our way back to the airport to return home. 
Deposit Information
A $500 deposit per person is required. $250 of your deposit is nonrefundable at time of booking. Should you decide to cancel, $250 of your deposit (per person) is refundable through March 31, 2024. Your entire $500 Deposit/booking fee is nonrefundable after March 31, 2024. Final payment due by June 1, 2024.
Deposit Payment
Please note, your registration is not complete until you have sent in your deposit fee. All deposit fees are requested to be made by check.
Payable to: Plaza Travel
Mail to: Plaza Travel, Attn: Denise Schaefer
21021 Ventura Blvd Ste 300, Woodland Hills, CA 91364
Enrollment in and payment of deposit constitutes your acceptance of the "Terms and Conditions"
INCLUDED IN THE PRICE: Economy round trip airfare, US & Int'l. Taxes, gratuities, deluxe motorcoaches, first class hotels, guided sightseeing, entrance fees to sites visited, breakfast and dinner daily.
NOT INCLUDED: 1) Optional travel insurance program; 2) miscellaneous fees such as individual transfers, passports, laundry, beverages at all meals; 3) lunches; 4) meals not listed as included above, excess baggage and items of a personal nature; 5) fuel surcharges which may be imposed by airlines and other suppliers. If applicable, fuel surcharges will be paid by the passengers; 6) voluntary "love offering" for guide and driver; 7) any increase in taxes and/or fees imposed after the publishing of this site; 8) any tour cost increases due to normal inflationary cost adjustments.
AIRFARES & AIRLINE POLICY: In order to keep prices low, Plaza Travel does not guarantee the most direct routing to your final destination. Once printed, airline tickets cannot be changed or refunded thereafter. Air transportation to/from your destination will be economy class aboard IATA and ARC carriers utilizing nonrefundable, nonamendable tickets for groups of 10 or more flying together for entire itinerary.
All flight times are subject to change by the airlines without advance notice. Plaza Travel is not responsible for such changes or delays and does not reimburse expenses resulting from such delays. If you choose to make your own flight arrangements to departure city, we recommend you purchase a ticket which can be changed without large penalties. Passengers are responsible for reconfirming their flights with the airline 24 hours prior to departure.
RESPONSIBILITY & AGREEMENT: Plaza Travel has made travel arrangements for this trip, as an intermediary or agent for the transportation carrier and other suppliers of services connected with the tour, all of which are independent contractors. Plaza travel in no way owns or operates the vehicles or facilities to be used during the tour and assumes no responsibility for the negligent acts and/or omissions of these independent contractors, their employees, agents, or representatives. All bookings are accepted subject to the conditions imposed by these contractors and Plaza Travel will make no refund in the event of their delay, cancellation, overbooking, strike, act of terrorism, or force majeure.
ENDURING WORD CONDUCT POLICY: Enduring Word Inc. is a Christian ministry committed to sharing the Gospel of Jesus Christ through educational tours in Israel. As followers of Christ, we strive to live according to Biblical principles of morality, integrity, and love. Though we welcome guests from all backgrounds on our tours, we kindly ask that all participants adhere to standards of conduct aligned with Christian values during the tour. This includes avoiding illegal drugs, drunkenness, dishonesty, inappropriate sexual behavior, divisive speech, and any activities that could damage our witness for Christ. While on tour, we expect guests to show respect for one another, tour guides, and the communities we visit. Participants should aim to build each other up with their words and actions, being patient and gracious as needed. Our goal is to create a welcoming, uplifting environment on tour where the Gospel can be shared and modeled with integrity. We understand that guests may come from diverse perspectives and do not expect perfection. However, we lovingly ask everyone to thoughtfully consider how their conduct impacts those around them. By working together under God's guidance, we can experience the blessing of Christian fellowship during our tour through the Holy Land. Please let us know if you have any questions! We look forward to traveling with you.